Apennines   (Italy 🇮🇹)   –   4 days
Guided Ski Touring
Remote ski touring
(where only wildlife goes)
Private mountain refuge
(have the mountain & refuge for yourself)
Freeriding in a nature reserve
(guided by top-notch wild nature guide)
Scenic Sunsets & Sunrises
(in the pristine Abruzzo National Park)
Wildlife Tracking in Snow
Tracking winter wildlife
(following snow tracks)
Learn about wildlife behaviour
(top-notch & passionate nature guides)
Fully equipped
(trap cams, torches, night vision binoculars…)
Italy's Big Five in one national park!
Marsican Brown Bears
Wolves
Wild Boar
Deer
Apennine Chamois
Enjoy top-notch Wining & Dining
Delicious Italian wines & food
(from 100% organic farms and vineyards)
Fully catered mountain hut
(wine & dine in private hut with fireplace )
Stay in an ancient winery
(with private house in medieval village)
Dine & wine in archeological Rome
(with exclusive slow last lunch)
Relax & Recover in Rome
Relax & Recover in Rome
(guided by Ulaya's historican storyteller)
Reconsider Humanities Role in History
(Time to bond and gaze at human history)
Slow Supper in archaeological garden
(slow food wine & dine experience in an ancient garden)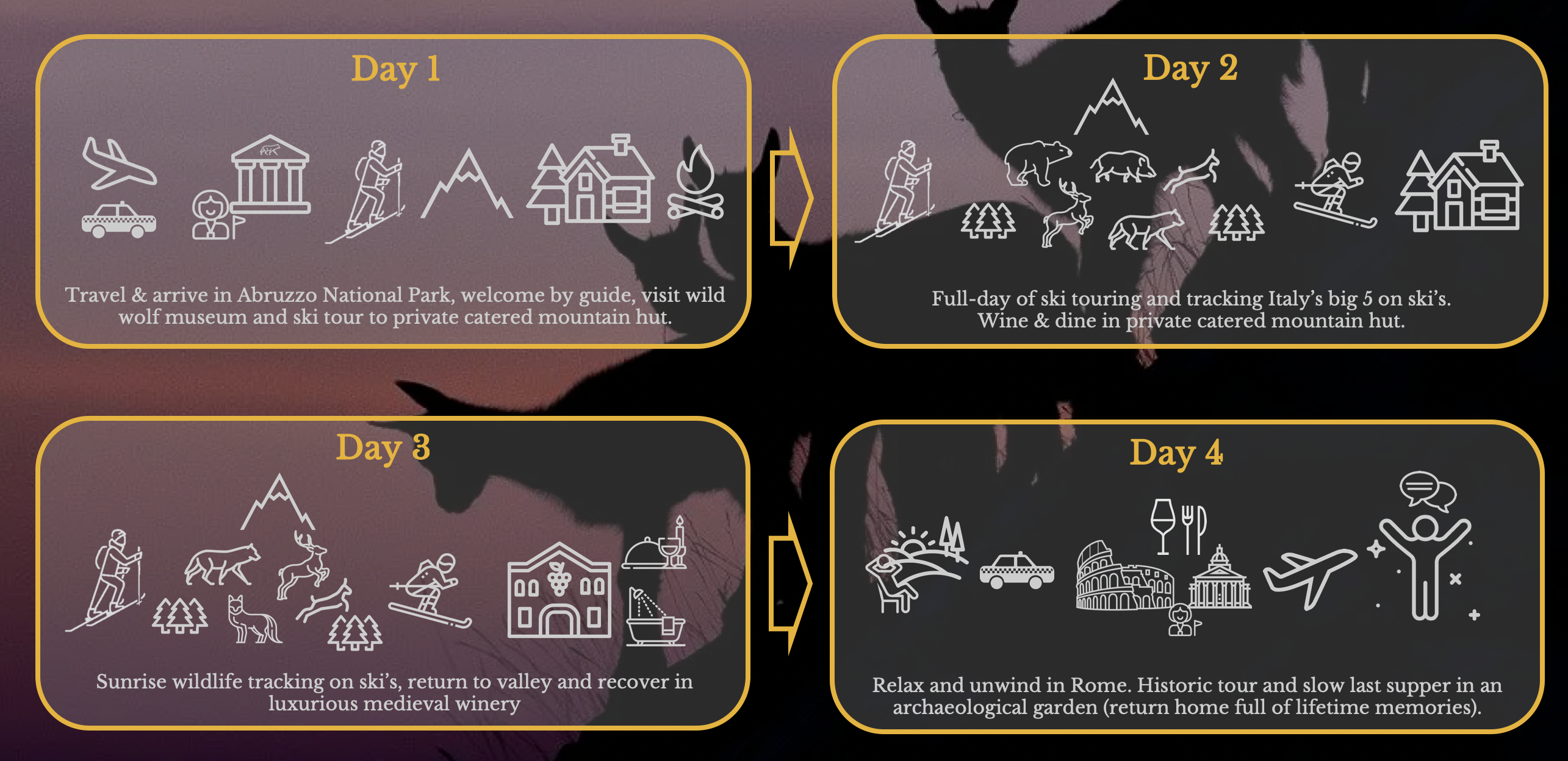 DAY 1 – Abruzzo Nature Reserve
Arriving at Rome airport, your transfer awaits. In 2,5 hours you will be brought to the Abruzzo National game reserve. You meet with your private mountain & wildlife guide at the local Apennine Wolf Museum. He/she introduces you to the Apennine mountains and its rewilded wildlife and provides you with your ski touring and wildlife tracking gear & equipment.
You head off on your tour skis into the park, towards your private catered refuge in the middle of the pristine winter wilderness (400 mtrs ascent, moderately difficult). In your mountain refuge a sundowner, warm fireplace and lovely dining &wining awaits.
Day2 – Winter Wildlife Tracking
Wake up by the first rays of sunlight and surrounded by mountains.  You enjoy an early morning ski touring and wildlife tracking experience. We have our breakfast back at the refuge before we leave again for tracking more wildlife, have a remote lunch and riding virgin snow slopes before returning to Terraegna Mountain Refuge (5h walk – 20km – 800 m ascent).
The day is finished outdoors around the fireplace where we recover, gaze at the Milky Way, and listen to the rhythm of nature and howling wolf packs, before a good night's rest.
DAY 3 – Rewilding Apennines
Again you rise early and spend the full morning tracking more wildlife, visiting camera traps and mounting and riding pristine slopes. After lunch, you descend the mountain and head for the picturesque mountain village of Picinisco. You check in at the ancient winery 'I Ciacca' in a private medieval village house, freshen up, walk around and gaze at the wonderful mountains you explored.
Before your exclusive organic winery and dinner experience, you have a drink with Mario, manager of 'Rewilding Apennines'. He introduces you to the successes of the Park and its Wildlife Smart Communities, in which local entrepreneurs, farmers and shepherds consider wolves and bears as vital to the area and their lives.
DAY 4 – Recover, Rome & Return
This morning you take it easy or visit the ancient village. After coffee, it's time to say the nature reserve goodbye and head for Rome.
In Rome, historian and storyteller Sandrina will throw you back into human history while touring Roman highlights, as well as take you to the best aziendas & bars and views. You finish your Winter Wildlife Ski Safari with an exclusive dinner in an archaeological garden, before returning home.
Costs & Planning
Ulaya Safaris are tailor-made. We design our safaris based on your preferences, convenience, availability, and seasonality. Based on your input we create a program with hand-picked ingredients, including dates and pricing.
Prices for 4-day Winter Wildlife Safaris start at ~ €1.500 per adult.
What's included
Tailor-made organization
Accommodations
(based on double occupancy, possibly dorm in mountain hut)
Hand picked Mountain & Wildlife Guides
Wildlife Tracking Gear
(GPS, headlamps, (night vision) binoculars, torch, headlamp, camera traps)
What's not included
Flights
Extra personal expenses
Travel insurance
After dinner drinks